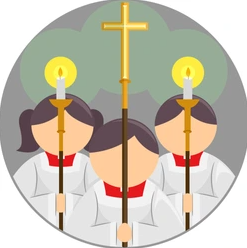 Altar service provides children ages 8-14 years old the opportunity to assist the priest and deacon
throughout the Mass. In order to become an altar server the child must attend regular training
meetings throughout the year. Meetings are scheduled about once every 2 months.
After the first meeting the child will be placed on the schedule of the Sunday mass time of their choice.
Altar server training is led by Mahir Jabow – (586) 817-2264
Scheduling is done by Joanna Dallo – (586) 295-8152